HIGH SCHOOL PHYSICS AND CHEMISTRY COMPUTER PROGRAMS

Windows Version 2021 &copy

Welcome to the Physics and Chemistry Computer Programs site. We are happy to announce that after intense testing, we released in February 2021 a set of 16 interactive computer programs that can be quite benefitial to high school physics and chemistry teachers and students.

In physics, the computer programs cover the following topics: Galileo's Laws of Falling Bodies, kinematics equations, projectile motion, formation of sound beats, and relativity. In each of these interactive programs the students can practice an unlimited number of different random problems. In some exercises, the computer generates easy numbers, inducing the students to solve them mentally. Other problems, of course, require the use of scientific calculators. One of the physics programs is a 38-page screen carefully designed kinematics tutorial. This tutorial does a marvelous job explaining Galileo's Laws of Falling Bodies, projectile motion, vectors, acceleration, and kinematics equations. We have no doubt that those teachers that use with an entire class the five programs involving Galileo's Laws, sound beats and the addition of waves, and relativity, will be greatly surprised to see the high level of motivation the students will have.

There are also five programs that are beneficial to chemistry students. The topics studied are the following: (1) Names and symbols of the chemical elements, (2) The number of protons, electrons, and neutrons of each chemical element and hundreds od isotopes, (3) The period, valence electrons, and the electron configuration of the chemical elements, from atomic number 1 to atomic number 118. In the last program, Spontaneous chemical reactions, students can select one of six different chemical reactions, and find out if the reaction is spontaneous or not at any temperature en Kelvin degrees they indicate.


General Information:


Number of physics programs = 10
Number of chemistry programs = 5
Physical chemistry programs = 1
Total number of programs = 16


Requirements: Window XP or newer, and a USB port
Price: $125.00 (Includes the Shipping)
Product # PHYCHE
This product is delivered in a 16 GB USB jump drive
Academic Level: 10th to 12th grade
Regular and Advanced

The following is the list of computer programs:
Galileo's Law of Falling Bodies 1
Galileo's Law of Falling Bodies 2
Galileo's Law of Falling Bodies 3
Projectile Motion 1
Projectile Motion 2
Projectile Motion 3
Kinematics Equations
Kinematics Tutorial
Sound beats and the addition of waves
Relativity
Chemistry 1: Names of the chemical elements
Chemistry 2: Number of protons, electrons, and neutrons
Chemistry 3: Isotopes
Chemistry 4: Periods and Valence Electrons
Chemistry 5: Electron Configuration
Physical Chemistry: Spontaneous Chemical Reactions
If you are interested in purchasing this educational product (High school physics and chemistry computer programs - Product # PHYCHE), please send your electronic mail and check or money order for $125.00 to our physical address. All orders will be fulfilled within 7 days.
Note:
Ceres Software Corporation also accepts purchase orders from school districts and from individual schools. The purchase order must show the school name, address, and phone number, and must be signed by an administrator or department chairperson that is authorized to make purchases.

When a school purchases four units of the same educational product, the school
acquires the license for life, not only of installing all the activities in an unlimited number of computers within the school site, but also of uploading these activities to the school website for the students to use them online.

Please send your purchase order to our physical address or to the email address
science@ceressoft.net.
Ceres Software Corporation


http://www.ceressoft.net
http://physics.ceressoft.net
https://www.facebook.com/ceressoft

E-mail: science@ceressoft.net


Please click the links below to View and Play 11 physics activities or jump to other parts of our web site:
---
---
Home Page Physics Worksheets Chemistry Biology Physical Science Physics and Chemistry Programs
Earth & Space Science Physics Problems Physics Video Exams Anatomy Balsa Wood Bridges Electric Motors
Computer Science & BASIC Language Health Science Zoology View & Play Activities Free Materials & List of Products
<!A href="http://friend.ceressoft.net" TARGET="top">

---
---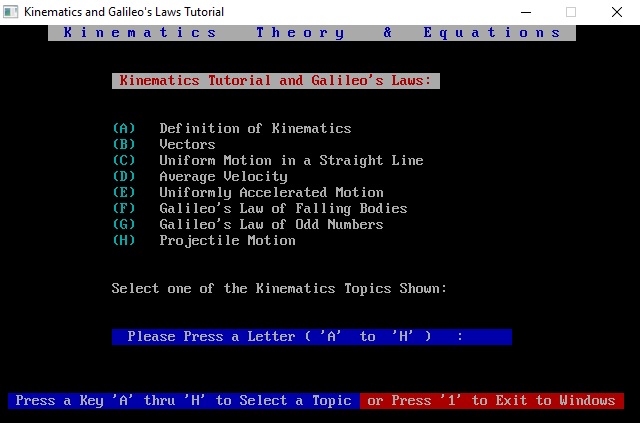 Useful Links in High School Physics and Chemistry



Hyperphysics - Great website to visit



NYS Regents Physics Course



MIT Physics courses



Physics.org



Einstein online



PhET Simulations - Online physics simulations



A Guide to Physics & Astronomy Resources



Physics Exams



Many Cool Physics links



The best 20 physics websites



MIT OpenCourseWare



All about circuits



Physics



Physics - Science - Khan Academy



Cosmology and astronomy



Physics - Bozeman Science



The Physics Classroon



Share my lesson



Flipping Physics



Physics for the 21st Century



Algebra based physics course



The physics classroom - Tutorials



One-dimensional motion - Khan Academy



Two-dimensional motion - Khan Academy



Rotational kinematics



Forces and Newton's laws of motion - Khan Academy



The Physics Hypertextbook



Dynamics - The Physics Hypertextbook



The Physics Hypertextbook - Compadre.org



The Physics Hypertextbook - Amser



Physics - New York Regents past exams



PhET Interactive Simulations



Share My Lesson



Physics and Astronomy Reference



Astronomy Picture of the Day



Space.com



NASA Television



Windows to the Universe



Windows to the Universe



Windows on the Universe



Astrobiology



NASA PlanetQuest



Planet Size Comparison



TEDTalks video - Questioning the universe - Stephen Hawking



Chemistry Course - Bozeman Science



AP Chemistry - Bozeman Science



Chemistry Course - New Jersey Center



AP Chemistry Course - New Jersey Center



Preparing to study chemistry - Khan Academy



Studying for the 2020 AP Chemistry exam? - Khan Academy



The Periodic Table Interactive



High School Chemistry Resources



High School Chemistry Education Resources



Chemistry



College Board Chemistry



AP&copy Chemistry beta - Khan Academy



Organic chemistry - khan Academy



American Association of Chemistry Teachers



Chem Demos - University of Oregon



Molecular Workbench



Chem Matters Online



Chemistry: Challenges and Solutions



Chemistry - New York Regents past exams



Ward's World



Chem Collective



American Association of Chemistry Teachers



Middle School Chemistry



Chem Demos



Amino acids guide



Royal Society of Chemistry



The Comic Book Periodic Table of Elements



WebElements - The periodic table of the elements



Chemputer



The Periodic Table of Videos



ChemiCool – Interactive Periodic Table



LennTech Periodic Table of Elements



Chemical Elements



Ptable